The FLOWBUSTER was designed as a Flow Platform for use in testing Fire Pumps, Standpipes, and Fire Hydrants using a pitot tube for measurement of the flow.
The FLOWBUSTER features a thrust-balanced horizontal design to prevent hose-end thrashing. 
The flow stream is diverted away from the operator to allow "dry" readings.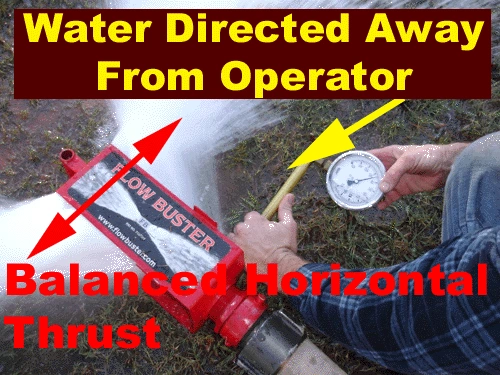 During operation the vertical forces are slightly unbalanced to apply a negative force on the ground to firmly secure the unit.
The FLOWBUSTER is open on both sides to provide a clear area for accurate placement of the pitot tube to measure the flow.
The FLOWBUSTER can be used on almost any surface without causing scouring. The water is directed upward upon exiting and thus prevents damage to surrounding grass and dirt surfaces.